Hello peeps! Hope you had a beautiful Christmas celebration.
This is such a happy today for me as I get to share a very special card I made for this week's challenge over at Cupcake Inspirations. A couple of days ago, I got an e-mail from Rachel Hope telling me that the card I entered for the challenge that week made the top five. She also told me that I have been invited to be this week guest sweetie designer. Believe me, I wasn't expecting this! You have no idea how much I love to create because it brings me so much happiness…and along the way, I hope to inspire someone the same way I have been inspired by others.
I am so excited to show you what I have created for them ~ so, here it is!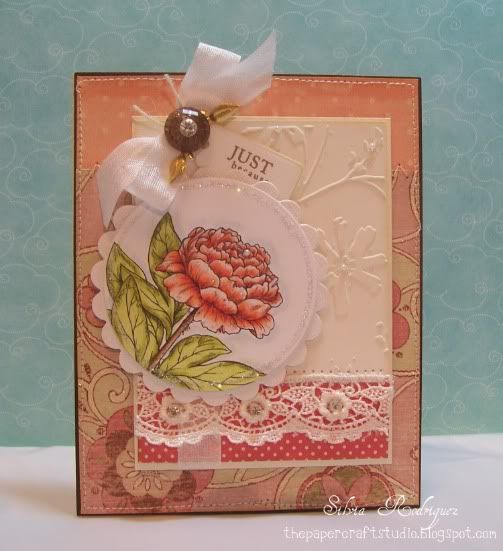 The inspiration piece....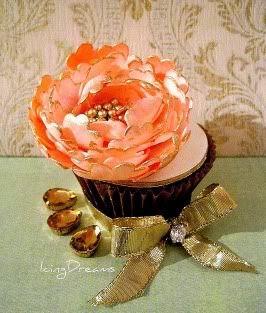 I had so much fun creating this... For the focal point, I used this gorgeous peony image from Just Inklined digital stamps. I colored the peony with my favorite coloring medium ~ my prismacolor pencils. Love the designer papers, they are just scraps I had in my stash from other projects.
The little details.....
This card has all sorts of embellishements, stiching, and tons of glitter. Well… I kind of incorporated some of the elements I saw on the inspiration piece. See those gold leaves… those are part of a little set of a decorative buttons I got from Joann's ages ago….

back then, I was not even thinking about designing cards! Anyway, hope you like this little project as much as I do.
On another note.... Here is my first blog award!!!
Another sweet surprise I got the other day is this awesome award I received from my blogging friend Jennifer Hagfeldt. She is the sweetest person ever….and she is so talented! I love her cards and scrapbook layouts. So, thank you so much my friend! Now I need to share three things I love the most and these are….
1. I love to cook and entertain.
2. I love to go to the movies… especially with my children.
Last but not least, I am so happy to pass it on to such amazing friends and artists!
Alright girls, I think that's all for today!
Thank you so much for visiting... have a wonderful day!