….no, I mean it… It is freezing right now! For me today is the official day to welcome winter. I am not particular crazy about winter as I have said before my favorite season is fall and it is gone! On the other hand, my children are so happy to see the first signs of what is going to be a long … long winter season. This morning, they were so thrilled to see the first snowflakes following down magically from the sky. Anyway, this is my card for the new challenge over at The Pink Elephant blog. Here it is… hope you like it!
I am using a patterned paper I had from last year. I think that the designs on it really complements the image I picked from Lori's Designs digi stamps. The image's name is Puddle Jumper ~ Winter Dana. As usual, I colored the image with my prismacolor pencils and gamsol. I really want to color the same image with my copic too… hope that will happen pretty soon! The paper are from October Afternoon.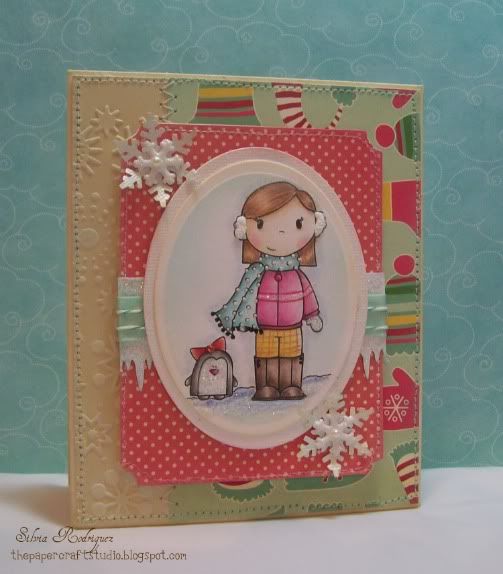 The close ups!
Have I told you how much I love my cuttlebug machine? Love the fact that I can use my embossing folders and add texture to my projects especially this cute card. I used the snowflakes embossing folder on one section of the tan matting. And any excuse is good to use tons of glitter ~ right! That's exactly what I did here! After punching the icicle border with my EK success border punch, I added tons of glitter on it after I applied a light coat of clear stickles glue ~ I really love the effect! Then I added a piece of satin ribbon and of course my newest addition the baby blue twine. I also added a gem of the penguin's bow and some liquid appliqué on the scarf. I think that this pretty much covers the whole process of making this sweet card.
Thanks for stopping by and for all the sweet comments you left in my blog. You have no idea how much I love to hear from you!
Take care and enjoy life to the fullest!