Hello…hello there! How is your day so far? Hope you are in the mood for a challenge because we are having one over at By Lori Designs. This week, Lori challenged us to design a card using these colors: light yellow, red, dark brown, and kraft. Such fun colors to work with ~don't you think?
Here is what I have created for this challenge!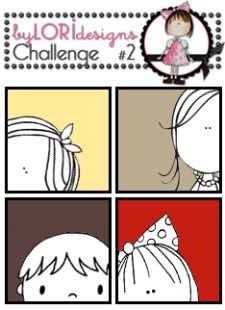 About the card…. let's begin with the image. It is called Wagon Tales Katie and it is from the Puddle Jumpers collection ~By Lori Designs. This time, I used a combination of copic markers and colored pencils to color the image.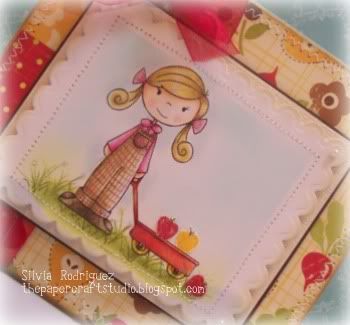 Next… the pretty papers are left over from other projects. Just by looking at them, I can tell you that they are from October Afternoon.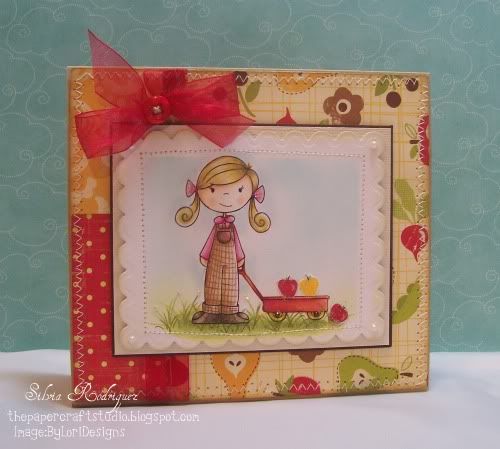 Lastly… the embellishments: organza ribbon, tiny white pearls, button, and those little apples are from a piece of printed ribbon I had in my stash. All I did was to cut them out with a pair of scissors, I added a small glue dot to the back, and then I attached them to the wagon… this is my little tip for today!
I have a little person pulling my shirt right now because he is ready to go for a walk and have lunch with his mommy! He already picked the place for us to go for lunch …guess which one is it… Chick-fil-A!
Well, I hope you will find the time to play along with us this week. Please be sure to visit By Lori Designs and enjoy all the beautiful cards created by the rest of the design team.
Oh, thank you for all the lovely comments you left during our blog hop. We will have another one pretty soon!!
Hugs,