Good morning peeps…I am so glad you stopped today! We are having our first challenge of the year at The Pink Elephant blog,and it is a color challenge!

I am so excited about this one because I got to use one of my favorite images. As you can see, I created some sort of shabby chic card.

Here are the details about the challenge… please create a card using these colors: pink, aqua, and orange. So, here is my take!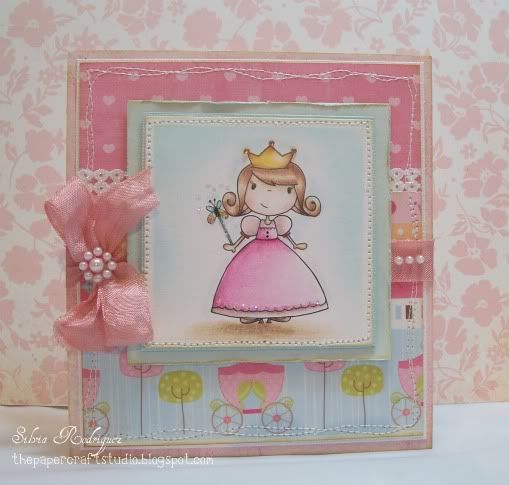 For this card, I used

Princess Chloe

image from the Puddle Jumper collection ~ designed by Lori Boyd. After printing out the image, I colored her with my prismacolor pencils and gamsol.

I punched a border using my Ek success punch and then sprinkled glitter on it. I love to do this especially when I am trying to achieve that shabby look. The pretty papers are from Imaginisce.
To finish off the card, I used a piece of vintage ribbon to tie the bow, added some pearls, and… again I sprinkled a little bit of glitter on Chloe's dress and wand.
Well, I think that's all for today. If you want to see the beautiful cards created by the rest of the design team, please stop by The Pink Elephant blog.
Thanks for all your sweet and encouraging comments… Have a wonderful day!!