Good morning everyone! Can't believe that a new year has started and I am so excited about it. I am very happy to announce that I will be designing for By Lori Designs digi stamps. A couple of weeks ago, my sweet friend Lori Boyd invited me to join her design team. I am so thrilled to be one of her designers, and I am looking forward to work with the rest of the design team. Thanks Lori for this incredible opportunity!
Starting today, Lori will be hosting challenges over at her blog and the first one this week is a color challenge. Here are the colors for this challenge:

dark pink

,

light pink

,

turquoise or aqua, and olive green.
Here is my little card…. have fun with this challenge!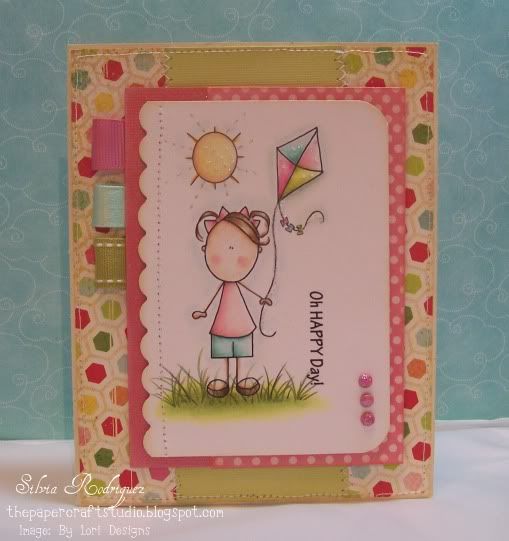 Today's card uses the sweet image called

Girl with Kite

from the Sugar Sticks collection. Don't you love those pony tails? ~ They look so adorable!!!

Here is the direct link to the store so you can get it right away.

As usual, I colored the image with my prismacolor pencils. I also hand-drew the grass to give a more realistic look to the scene.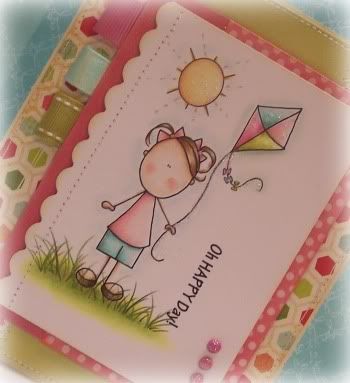 I added glitter on the kite and on the sun. I wanted to add buttons but the ones I had were too big… so I used those tiny brads instead. I folded little pieces of ribbon and added them to the side of the focal point.
Next week, we will have a blog hop to introduce new images…. so, stay tuned!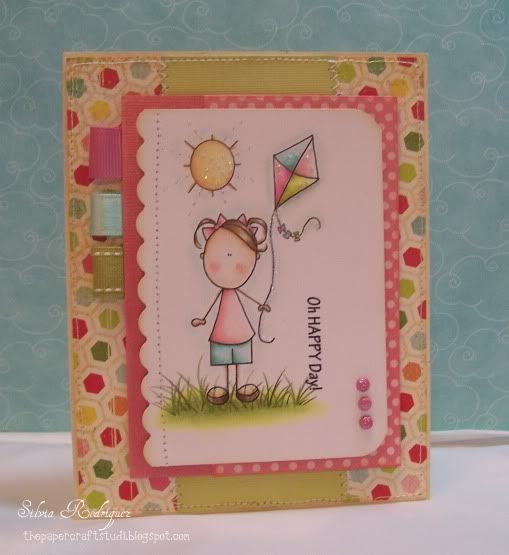 Before I leave, I would like to thank you for all the sweets comments you left on my blog! I haven't had the chance to visit you to thank you personally but I will do so very soon! Welcome to the new friends that had singed in to follow my little blog, so happy to see you here!!
Thanks for visiting again…..have a wonderful day!