Good morning everyone! I wanted to show you a fun card I made for our new challenge over at
The Pink Elephant blog.
This week,
Lori
challenged us to create a card using white as the main color. So after brainstorming some ideas, I decided to incorporate white by using my favorite embellishments such as peals, glitter, and liquid appliqué. So, here is my card ~ hope you like it!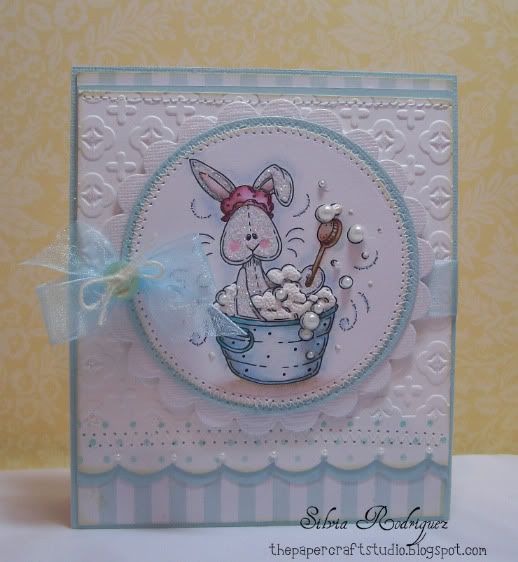 This is what I did to create my card. I printed out the image. If you are wondering where this cute image comes from? Well, it is from our wonderful sponsor, Meljen's designs. My card uses the

Bubble Bath Bunny image.

Isn't this the cutest?
Here is a closer look to see the card details!
I wanted the bunny to be white, and I didn't want to use my pencils to color her body. Instead, I just used my C1 copic marker and my blender. I went around the inside lines of the image with the marker to create some depth to it. After I applied a light coat of glue on her body, I sprinkled the glitter and… voila! the image turned white without any coloring.
For the bubbles, I used white pearls and of course liquid appliqué to create that 3D effect. I also used one of my cuttlebug embossing folders to add texture to the white matting. If would like to know how to create the 3D effect with the liquid appliqué, please let me know. I will be happy to take pictures and write a little tutorial on how is done!
Okay girls, my time is up! Hope you can join us this week at The Pink Elephant Challenge blog.
Thanks again for visiting and for all your sweet comments!
Gracias por visitar mi blog y por sus comentarios!