Gooood morning everyone, so excited to be here today! Sorry to disappear on you like that, but I was making some boxes for my little girl birthday party…18 of them to be exact!!! I took a few pictures, but I will be sharing those on another post. What I can show you today is the little card I created for our new challenge over at the Pink Elephant blog. My card is based on a sketch created by Joni Wilson. So, here is my interpretation of the sketch!!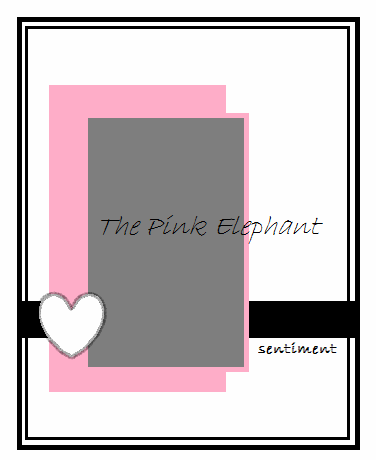 Today's card uses the super cute digital image called Easter Leah from Whimsie Doodles. Adorable…isn't it? Thank you Melissa for sponsoring this week's challenge!

I colored Leah with my copic markers and prismacolor pencils.
I used several pieces of patterned papers to create my card. I also used an oval and label nestability die for the focal point. To finish off the card, I added a button, glitter, a little piece of twine, white pearls, and ribbon. The sentiment is from PTI.
I think that's all for today. I am off to continue working on some other projects. Please be sure to visit The Pink Elephant to see the beautiful creations by the rest of the DT.
Thanks for visiting… have a wonderful day!!!